This is our first blog out of 3 in our OpenText Cloud blog series. During this blog series we aim to share our insights to help you being more successful with your move or adoption of Cloud solutions. In this first half of our blog, we explain why we decided to invest in becoming specialized in Cloud solutions, while in the second half, we go over the OpenText Cloud system Core Archive for SAP Solutions.  
"Is moving to cloud a risk when you are in the consulting business?" 
This question was raised to us a few years ago. What was being asked was that whether moving to Cloud would have a negative impact on the consulting business, since that when moving to Cloud, the installation does not have to be done by consultants. Instead, it will be included in the Cloud subscription deal. 
This means that a company such as Turnpikes, who specializes in installing, configuring and managing OpenText solutions at enterprises, becomes obsolete, right? But that is not the case at all. It becomes an opportunity.  During the time when this question was raised, we were already in the middle of several Cloud deployments.  
New business opportunities with Cloud
The reality is that with Cloud some of the classic installations, sizing and base configurations are no longer required. But on the other hand, the Cloud option opens to new consulting opportunities. Meaning we have been spending time gaining as much knowledge and educating ourselves in OpenText Cloud services, to prepare for this Cloud era. It has become important to understand the different types of Cloud, securing capabilities and mapping those against the customer requirements, integrations – since Cloud systems by OpenText are seldom used on their own.  
To conclude, with the new Cloud systems in the industry, comes new business opportunities to consulting companies such as us. However, it all depends on the individual company. Investing time and effort into understanding the different options, on a technical level of details.  
Our goal is to be able to provide the consulting service when it comes to making the Cloud solutions work, as well as making them run smoothly, securely in a Cloud landscape. And what we are seeing is that customers do seek external specialists that understand in detail and have experience with Cloud. 
Despite the nature of the services are changing, the opportunities are only getting bigger. And one of the first things we learned is that Cloud is not simply Cloud. There are many variations out there and that is why we feel great responsibility to understand the different options in the context of the solutions that we specialize in – being SAP Solution Extensions by OpenText (VIM, IC4SAP, Archiving), as well as OpenText ECM (mainly Extended ECM). 
OpenText Core Archive for SAP Solutions
OpenText Core Archive for SAP Solutions manages SAP data and documents via SAP ArchiveLink or the ILM interface, as well as through file share content. The same goes for other NON-SAP related content over a CMIS interface with a true SaaS solution.  
The archiving service runs in the OpenText Cloud in a resilient and fault-tolerant architecture. And with the Core Archive Connector an interface to the enterprise applications is provided, by the means of SAP ArchiveLink or CMIS, which then connects the Cloud service. It provides compression and encryption with a customer-owned key, which ensures you a high level of IT security. 
All SAP business documents are securely archived and attached to SAP transactions and processes. The solution allows SAP users to access all content regardless of time or geographical location. All this can happen directly from the SAP transaction or in easy-to-use business process overviews.  
For non-SAP content, the solution provides a CMIS interface which supports content archiving and content integration for any CMIS enabled application. Batch input interfaces, as well as archiving from a file system, are also provided as you can see in figure 1 below.  
The reason that customers benefit from the public cloud service is because they get a cost-effective solution that scales with their needs. Without the need for an upfront investment in infrastructure and software, customers only pay for actual usage, based on consumption in terms of write-and-read transaction volume and storage usage.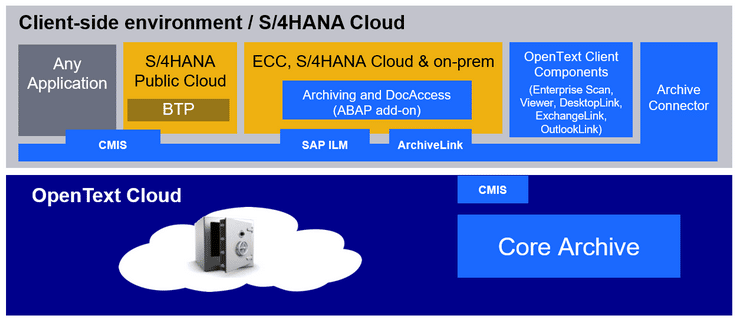 Fig 1: Here you can see how Core Archive can communicate with different versions of SAP S/4HANA.  
In the following video you can learn more about how OpenText Core Archive can benefit you: