This is our second blog out of 3 in the OpenText cloud blog series. With this series we want to help you understand more about the Cloud offerings from OpenText, as well as how to smoothly implement it yourself. Next up we want to talk about Core Capture for SAP Solutions, which is a cloud application that supports the capture of any form of content.
If you know Intelligent Capture Center (ICC) for SAP Solution, then you know it is an on-premise OCR-tool. OpenText Core Capture is also an OCR-tool, but works as a Cloud solution. But why should you choose a Cloud solution?
Well, in this blog we will answer that specific question by digging deeper into the Cloud solution by OpenText, Core Capture for SAP Solutions. First, we will walk through some of the functionality of Core Capture and later present what benefits you get from choosing a Cloud solution. 
OpenText Core Capture for SAP functionality
Core Capture for SAP uses patent pending machine learning. Which reduces manual interaction by automating the capture process for incoming documents related to SAP business objects. No matter if they are simple or multi-page complex documents. And there is no need to worry, both SAP ECC and S/4HANA are supported.
What is also important to note, is that Core Capture supports OpenText Vendor Invoice Management for SAP Solutions. It ensures all the steps from capture to processing information is done in an automated and intelligent way. 
Core Capture for SAP takes an advanced approach to optical character recognition (OCR). The software recognizes the type of incoming document. It intelligently captures the full information in the right business context to pass it to the correct process. This allows Core Capture to achieve maximum level of automation.
This specific Cloud solution is built on a powerful platform. It means that it incorporates more than 30 years of experience and a sophisticated invoice knowledge base, as well as machine learning technologies. This is the beauty of Core Capture for SAP, it adapts and learns from every document that it processes.
The solution follows an innovative approach. The patented machine learning engine eliminates the learning phase, which typical for other capture solutions. By doing so, this approach allows us to eliminate the setup efforts and instead offers robust ready-to-use capture from day one. 
Core Capture can help you get the most out of SAP S/4HANA 
By combining S/4HANA with OpenText Core Capture, you eliminate the manual process of entering in information. Because by entering and processing information manually, you lose some of the advantages SAP S/4HANA offers. SAP S/4HANA offers tremendous advantages for enterprises. This includes the ultra-fast computation times for complex operations. Therefore, to get the most out of SAP, it is an advantage to combine the solution with Core Capture by OpenText.
OpenText Core Capture helps SAP users bridge the gap that is created whenever entering in information manually. And it offers a robust capture solution, fully integrated with SAP, which allows you to capture any incoming document in a matter of seconds.
The difference between the Cloud and the off-Cloud solution
The figure below illustrates some of the benefits of having a Cloud solution rather than the off-Cloud solution. The figure demonstrates the communication architecture – or process – between SAP and OpenText Core Capture Cloud solution, as well as the ICC (Intelligent Capture Center), which is the off-Cloud solution of Core Capture.
Normally, communication between the S/4HANA system and the Intelligent Capture for SAP tool (off-Cloud solution) can go both ways. Meaning there is no machine learning (ML) repository/data storage happening outside of S/4HANA. Therefore, all data is stored internally, which can take up lots of space on the servers and overload the SAP S/4HANA.
With Core Capture by OpenText there is an external repository/storage of the machine learning data, which means it does not overload the internal servers.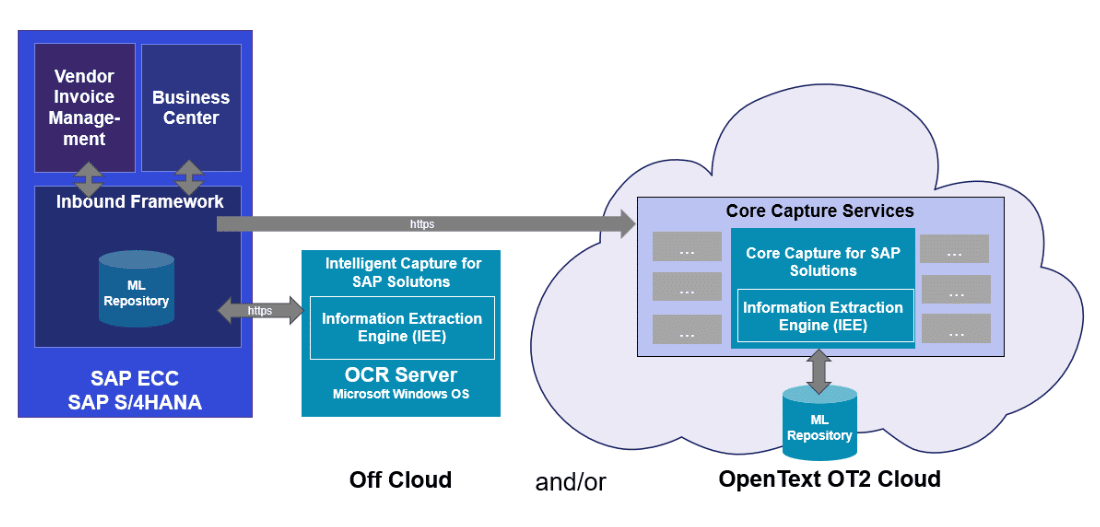 Fig 1: Communication Architecture of Cloud and off-Cloud solution

The communication architecture which is illustrated in the figure respects the Cloud nature, which means 
One way communication: SAP is exclusively calling the Core Capture for SAP Solutions services – it does not initiate calls to SAP

The machine learning repository is within OT2 cloud, rather than communicating back to SAP S/4HANA and storing machine learning in that repository, inevitably taking up a lot of space in the servers on-site

 




One instance of Core Capture for SAP can serve several SAP systems (Dev, Test, Prod) – even multiple production systems

 

Core Capture is completely stateless and passive, it only reacts on requests from a SAP system

 

No need to store and to synchronize business data on the capture server, any data required will be provided by the SAP system along with OCR requests

 
You can read the first part of our OpenText Cloud blog here.